Occupy Southend churchyard protest ends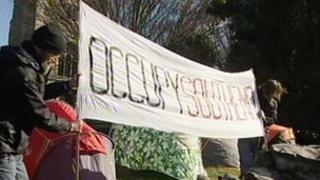 Protesters who set up camp in an Essex churchyard 10 days ago have now left.
Occupy Southend demonstrators pitched a number of tents in the grounds of St Mary the Virgin church in Prittlewell on 19 February.
On Saturday the group voted to leave the site following a threat of legal action by the Diocese of Chelmsford.
The group said it left at 20:00 GMT on Tuesday and was planning to move to a new site elsewhere in the town. It is not yet known where this will be.
In a statement, Occupy Southend said: "We wish to express our heartfelt thanks to the people of Southend who have turned out in their hundreds to support us over the last 10 days."
Presence 'disrespectful'
The Reverend Shaun Conlon confirmed the group had been to see him on Tuesday night to tell him they had left.
He said they had told him they had removed everything from the site, except for some portable toilets, which would be collected on Friday.
The protesters set up the camp as part of a global movement to raise awareness of concerns about capitalism and unfairness in society.
The church said their presence had been "disrespectful and inappropriate" and it had begun legal action to remove them.