Southend Airport runs first flight from new terminal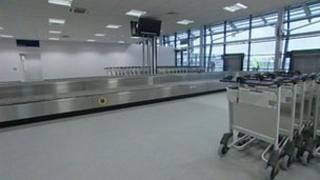 A new passenger terminal building has opened at an Essex airport as part of the expansion of the facility.
The £10m terminal at Southend Airport was used for the first time by passengers boarding an Aer Arann flight to Waterford in the Irish Republic.
Its owners, the Stobart Group, says the Essex airport will cater for about two million passengers per year by 2020.
In the past year a new control tower and railway station have opened, while its runway is currently being extended.
The airport has also submitted proposals to Rochford District Council to extend the new terminal building by a further 90m (295ft).
The 300m (984ft) extension of the runway is expected to be completed next month.
Budget airline Easyjet will also begin running flights from the airport in April.
The airport's managing director Alastair Welch said: "We are very pleased that the redevelopment of London Southend Airport is close to completion.
"Key projects are complete, or shortly to open and we are looking forward to offering very high levels of customer service in our new terminal."
An official opening of the new terminal will be held on 5 March.