Southend Pier to remain closed until end of March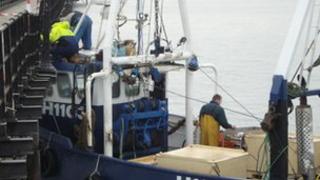 Southend Pier is expected to remain closed to the public until the end of March after a fishing vessel crashed into it last week.
A local fishing trawler hit a section of the Essex attraction on Friday.
Repairs are required to two vertical support pilings, two horizontal beams and cross bracings that were damaged about a quarter-of-a-mile from shore.
Conservative borough councillor Derek Jarvis said investigations had shown the walkway to be "distorted".
The latest incident was the 17th time the attraction, one of the longest pleasure piers in the world, had been struck by a ship.
Last September, the pier had to close for three weeks when the end of the 1.3 mile (2.16km) structure was hit by a barge.
'Feel sympathy'
Mr Jarvis, executive member for culture and tourism, said: "This end of the pier offers a slightly different situation to then.
"Our engineers are saying to get the work completed, we will probably have to allow a longer period than we had to before."
The visitor centre at the shore end of the pier will remain open.
Mr Jarvis admitted the closure was likely to have a "small impact" to visitor numbers to the town.
He said: "People will still come to Southend. We've got a massive programme of events planned.
"But when people come they do expect to see the pier and go on it and we will hope to get it open as soon as we can.
"I'm sure people will feel some sympathy for us that this has happened."