Interest in Coryton oil refinery 'encouraging'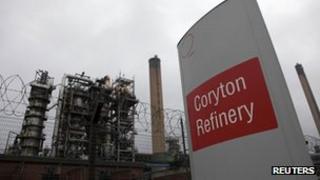 More than 40 expressions of interest in an Essex oil refinery have been received after its owners went into administration, the government has said.
The interest in the Coryton refinery was described as "very encouraging" by energy minister Charles Hendry.
The site halted sales after its Swiss owner, Petroplus, placed the plant into administration last week.
The plant supplies 20% of fuel in the South East.
About 850 people work at the site.
Administrators PwC announced earlier this week it had acquired a cargo of oil which will allow refining work to continue, providing a "breathing space" for the refinery.
'Crucial boost'
Mr Hendry led a meeting of politicians, business officials and unions to discuss the future of the refinery earlier.
"We have had another positive meeting at which the joint administrators updated those present on what they have achieved so far and their planned next steps," he said.
"The deal that allowed petrol and diesel to be delivered to forecourts from the refinery was a crucial boost, while the crude oil delivery acquired on Tuesday was important to maintaining refining operations.
"The collaborative approach taken by the workforce and the refinery's management has also been vital in making these things happen.
"There are critical issues to be resolved in the coming weeks."
As well as refining oil for use as fuel, the Coryton site - one of eight refineries in the UK - also imports fuel from other countries that has already been refined.
Mr Hendry said work would now focus on securing a long-term future for the site.