Dale Farm travellers: Warning issued over caravans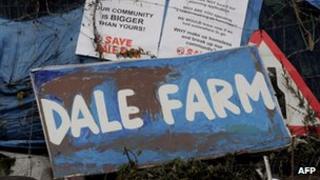 Caravan owners parked next to the Dale Farm travellers' site in Essex have been warned they are breaching a court order, the local council has said.
Basildon Council said five caravans had been parked illegally on a roadside next to the settlement.
The authority said enforcement officers visited the site earlier to urge residents to move on.
Clearance of the main Dale Farm site ended in November. A High Court order bans the re-occupation of the site.
Conservative Tony Ball, leader of the council said: "Council enforcement officers attended the site this afternoon to talk to the owners of the caravans and to remind them of the consequences of breaching a High Court injunction.
'Swift action'
"We also urged them to comply with the law and move away from the injuncted part of the site.
"This swift action shows that the council will take action to ensure compliance with the High Court injunction and ensure that planning law is upheld."
On Monday, Essex Police revealed it had spent £2.3m on the operation to clear Dale Farm.
The council is expected to release its figures next week.
Work to shut down Dale Farm, which was the UK's largest illegal travellers' settlement, saw violent clashes as bailiffs and police moved on to the land last September.