Diamond Jubilee: Essex boat to sail in Thames pageant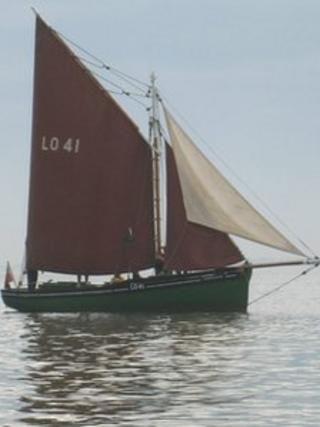 A restored Essex cockle boat has been chosen to sail in the Queen's Diamond Jubilee Pageant on the River Thames.
The Endeavour, a 36ft (10m) cockle vessel moored in Leigh-on-Sea, will be among 1,000 boats taking part in the flotilla on 3 June.
The boat was bought for a £1 by a charitable trust in 2001 which has rebuilt it to make it seaworthy again.
The skipper of the 86-year-old boat, Paul Gilson, said: "It's a privilege to be part of the whole thing."
He added: "We're fortunate we've got two representatives on the boat from the Royal National Mission To Deep Sea Fishermen, and the Queen's their patron.
"So there's a little bit of kudos to go with the Endeavour."
The vessel was built in 1926 to fish for cockles and shrimps off the Essex coast.
War service
In 1940, it was drafted into the Allied war effort - as one of the "little ships" which were used to evacuate soldiers from Dunkirk.
It then returned to fishing service, but was found abandoned in a Kent boatyard.
The Endeavour will be part of the Avenue of Sail section of the pageant, which will journey down river from Putney to Tower Bridge.
Mr Gilson said the prospect of about 1,000 vessels heading along the Thames was likely to present a real challenge to the crews.
He said: "It's going to be quite an interesting setup. The logistics for the people running it beggars belief.
"Having been up to Tower Bridge on several occasions, there is not a lot of room there."