London 2012: Opening ceremony role for Chelmsford town crier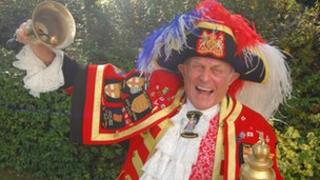 A town crier from Essex has secured a place in the opening and closing ceremonies of the London Olympic Games.
Tony Appleton, who performs the role in Chelmsford and Romford, was among 2,000 people who successfully auditioned for the Danny Boyle-directed events.
He said he would learn more about his part when rehearsals begin.
Mr Appleton said: "I'm ecstatic, I didn't know what to do with myself when I learned about it. I just hope I get my words right."
He added: "It will be my biggest ever audience - certainly much bigger than Chelmsford High Street."
Mr Appleton explained he had been one of about 10,000 people who applied to take part in the ceremonies and had to attend two auditions.
He said: "When I went there I was dressed as a town crier and ended up dancing for three-and-a-half hours.
"I'm getting on for 75, but I do train every day to keep myself fit, because I've got a lot of work to do.
"We've got nine rehearsals to do before the opening ceremony, so I'm going to be really, really busy."
Mr Appleton, who has been a town crier for 20 years and has performed at large events including the New Year's Day parade in London, has a big year ahead of him.
In addition to the Olympics, he will also be involved in the Queen's Diamond Jubilee celebrations this year at an event in Tower Hill.