Harwich fire: Work to start on rebuilding damaged homes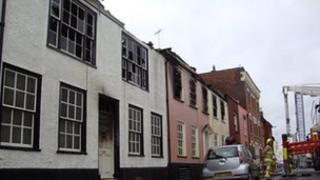 Work to start rebuilding five Grade II-listed homes in Essex that were destroyed by fire has begun.
The 17th Century properties in West Street, Harwich, were badly damaged by the blaze, which spread across the roofs on 7 December.
Contractors for Tendring District Council, which owns one of the buildings, have started to clear debris and stabilise the structures.
Once that is done, a detailed survey of the homes will take place.
The council said it and the owners of the other four properties had met with surveying and engineering firm, Richard Jackson, to discuss the required work.
'Some disruption'
English Heritage has approved the process of clearing the buildings, which is expected to last about six weeks.
The council said it would provide containers for any personal items that were recovered from all of the houses.
Conservative cabinet member for housing, Paul Smith, said: "There will be some disruption in that area of Harwich while work gets under way.
"But I am sure everyone just wants to see the residents get back into their homes as soon as possible.
"There has been a tremendous community spirit in the town so far and I am sure that will prevail while the homes are rebuilt."
Additional work to clean a number of nearby homes will take place in mid-February.