Basildon town centre's £1bn regeneration designs revealed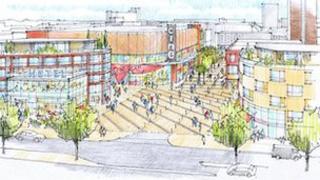 Plans for a £1bn redevelopment of an Essex town centre over the next 20 years have been revealed.
Basildon Borough Council has released draft designs which include an 8-10 screen cinema, market, more than 1,500 homes, hotel and college.
If the designs by Barratt Wilson Bowden are approved by the council's cabinet later this month, they will then be put out for a six-week public consultation.
The council said the first phase of work could be completed by 2017.
The deputy leader of the Conservative council, Stephen Horgan, said: "This will be one of the biggest town centre redevelopments in the country and perhaps the last of its kind for some time.
"It would transform Basildon town centre into a vibrant, commercially successful and popular place to live, work and visit."
Funding for the redevelopment would come from private investors.
'Quality not quantity'
The redevelopment plans have been focused on eight areas of the town centre, including East Square, Broadmayne, the Eastgate Centre, Town Square and St Martin's Square.
Between 1,500 and 2,000 residential units are proposed, along with a 150-room hotel and a college for up to 2,000 students.
There would also be 40,000 sq metres (430,570 sq ft) of retail and leisure space and 25,000 sq metres (269,106 sq ft) of offices.
The existing market would also be relocated to St Martin's Square.
A new public square would be created at the town's train station, along with a "transit mall" for buses and taxis.
Mr Horgan explained there would be a focus on "quality not quantity" of shops.
He said the town centre currently had an "over-provision of retail and under-provision of leisure, restaurants, cafes and bars".
He added: "[There's] a big focus on increasing the leisure offer available that will attract more visitors and investment in the town."
The cabinet will meet to decide on the plans on 26 January.
It will also consider a £1m plan to upgrade the Towngate Theatre.
Work would include the refurbishment of its auditorium, foyer, dressing rooms and catering area.