Bulger killer claim man receives suspended jail term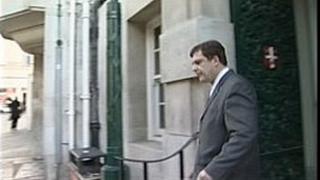 An Essex man who accused a neighbour of being one of James Bulger's killers has received a 12-week suspended jail term.
Spencer Payne, 44, admitted posting an offensive electronic message on Facebook saying a man in his block of flats in Dedham, was Robert Thompson.
Payne had posted the claim after arguing with his neighbour Gregory Filby about parking, Colchester Magistrates' Court was told.
A police officer saw the post and alerted the victim.
Within 24 hours of being spoken to by officers, Payne removed the post and wrote another message saying he was wrong.
His solicitor told the court at an earlier hearing that his client was mentally ill.
Victim terrified
Prosecutor Sharon Hall told the court that Mr Filby had been left terrified to leave the house and unable to sleep at night for fear of vigilante attacks after the message was posted on 5 December.
The message gave the precise address and said: "Convicted paedophile Robert Thompson is living in hiding with his wife and baby in the flat upstairs."
Mrs Hall said one online response read: "These people should be named and shamed", and suggested people had taken it seriously.
"In a victim impact statement he said he (Mr Filby) feared for his wife and baby's safety," Mrs Hall said.
"He was embarrassed to leave the house and was worried he might be stabbed or shot by somebody who believed the message."
Mrs Hall said police had set up a rapid deployment system in case of vigilante attacks.
'Out of control'
Raif Piggot, in mitigation, said Payne suffered from schizophrenia.
"He accepts his behaviour and the potential harm it could have caused was dreadful," he said.
"This was a neighbourhood dispute which spiralled out of control."
Magistrate Linda McKenzie warned Payne that he would face further punishment if he offended again or broke his restraining order by approaching the family.
"You have caused a great deal of upset to an entirely innocent man and his family," she said.
Payne was told he must also carry out 120 hours of unpaid work and was made subject to a restraining order.
Speaking after the hearing, Mr Filby, a student and voluntary worker, said: "I am devastated as this was an unprovoked attack which has put my life and my family's life in danger by wrongly accusing me of being a killer."