Harlow's stolen Holocaust memorial plaque replacement ready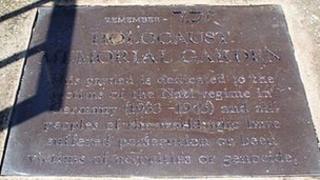 A replacement for a stolen Holocaust memorial plaque in Essex will be ready in time for this month's memorial day.
A bronze plaque honouring victims of persecution was stolen from a remembrance garden in Waterhouse Moore, Harlow, before Christmas.
Harlow Council said its replacement, made of dark-grey granite, would be in place in time for Holocaust Memorial Day on 27 January.
It will have the same inscriptions as the stolen one, which was laid in 2001.
Conservative leader of Harlow Council, Andrew Johnson, said he believed such "deeply disturbing" metal thefts added weight to calls for tighter regulation of the scrap metal industry.
He said: "People who are prepared to steal a plaque honouring the Jewish victims of Nazi persecution are clearly without conscience and unlikely to be intimidated by a minor fine.
"If we can stop thieves turning these callous thefts into cash, it will be a powerful deterrent."