Basildon Council sees rise in food hygiene prosecutions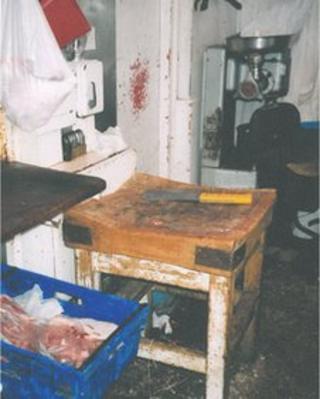 The financial climate has led to an "unprecedented" rise in food hygiene breaches, an Essex council has said.
Since April 2011, four businesses have been prosecuted by Basildon Council, which had brought only one case to court in the past three years.
It found "appalling" conditions at a cafe, a filthy butchers and rodent droppings at a takeaway.
The council said it suspected businesses were "feeling the pinch" and found it difficult to invest.
Richard Moore, cabinet member for environmental health, said this could "never be an excuse for putting the health of the public at risk".
With three months of the financial year to go, it has already issued 206 written warnings, compared to 184 last year and 161 in 2009/10.
Accumulated blood
The most recent prosecution to be heard by Basildon magistrates was that of Up The Road at Adam's Business Centre in the town.
The takeaway had not had hot water for a week, had a rodent infestation and staff had not been given uniforms or training, a council spokeswoman said.
In December the owner, who was of "limited means", was fined £3,000 and ordered to pay £1,000 costs after he admitted 12 offences.
Officers from the council's environmental health team found dirty and rusty equipment including a butchers' block, and a floor covered in accumulated blood and saturated sawdust at Eric Peter Butchers on Pitsea Market.
Its owner, who had traded for 59 years, pleaded guilty to 14 food hygiene offences, was fined £1,400 and ordered to pay £2,000 costs in October.
'Absolute disgrace'
On the same date, an independent cafe at Billericay Football Club admitted 11 offences.
Inspectors found mould in the oven and on the worktops, mice and rat droppings, flaking paint on the ceiling and chips stored in an old cardboard box.
Magistrates described conditions at the Blues Cafe as "an absolute disgrace" and the case as "the worst they had seen in a long time".
Due to his financial means, the owner was ordered to pay a £1,100 fine. The council said he could have been fined up to £55,000.
All three businesses had been inspected in March 2011.
The owner of The Belvedere function rooms in Billericay admitted eight offences, was fined £10,200 and ordered to pay costs of £1,624 in June last year.
The council said it had inadequate hand-washing facilities, was dirty and food was at risk of contamination. Mouldy food was also found in a fridge during the inspection in September 2010.
Mr Moore added: "Legal proceedings are our last resort but if food businesses ignore our officers' advice and continue to breach good hygiene practices, we will take action."
The council added that more businesses appeared to be compliant with regulations, which it attributed to the hygiene rating scheme driving up standards.