People return home after Essex crane made safe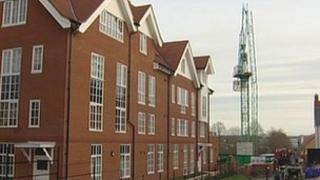 A crane that collapsed on a building site in Essex threatening about 50 properties has been made safe.
About 40 people forced to leave homes near Allard Way in Saffron Walden have now been allowed back after spending the night in hotels.
Essex Police said the crane was left in a dangerous condition by high winds.
Essex Fire and Rescue said: "The boom of the crane collapsed and was left hanging. Luckily no one was hurt and it has now been made safe."