Round-the-world horseback ride bid by Colchester aid worker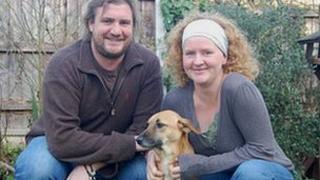 A charity aid worker from Essex is preparing an attempt to travel across four continents on horseback.
Anna Halford, from Colchester, will begin the ride in Chile in February along with her boyfriend Gilles Favier and their dog Delta.
The couple flew to Chile on Saturday to begin training with their packhorses.
The Médecins sans Frontières logisticians plan to then ride up to North America, Russia, Central Asia and Europe over the next three years.
Miss Halford, a project co-ordinator with the emergency relief charity, said she did not think anything like this had been attempted before.
'Long distance'
She said: "There is a guy who has ridden across most of the continents, but he does them one or a couple at a time.
"There are also people who have done Alaska to Patagonia. In fact they are to blame for our idea because it sounded so good when we read the books."
Between now and February they will select about four horses in Chile which they will then get to know and train with.
The first leg of the trip, which will take about a year, will see them ride from Chile to Venezuela, via Argentina, Bolivia and Brazil.
Miss Halford said they were well aware of the physical challenges ahead and explained long-distance horse riding involved just as much walking as riding.
She said: "We've been going out for long-distance walks, about 15 miles around the Essex countryside.
"It doesn't bother us, but undoubtedly it's going to be a factor, certainly in the first few weeks it's going to be a case of 'why are we doing this?'"
'A bit obsessed'
The couple have worked for Médecins sans Frontières (MSF) in emergency situations in countries such as Sudan, Haiti, Afghanistan and Somalia.
They hope their trip will help to raise funds and awareness of the work it does.
Miss Halford said: "We will be going through countries where MSF is active, so we'll be letting people know what the main medical and health problems are in that region."
Of all the countries they will ride through, she was most looking forward to "those ending in 'stan'".
She said: "I've become a bit obsessed with Central Asia recently, having read a lot of books, and I really want to go through them.
"Also, I've never been to South America so we're quite looking forward to that."