Heroin and cocaine found at Harwich Port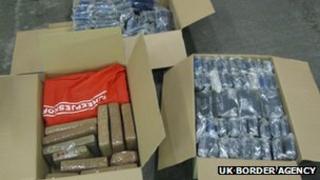 Heroin and cocaine worth £6,500,000 has been seized at Harwich Port by the UK Border Agency.
The Class A drugs were discovered in a trailer which had arrived at the Essex port from the Netherlands on Wednesday.
In total, 44kg of heroin and 36kg of cocaine had been hidden alongside specialist medical equipment in several boxes.
A 47-year-old Dutch man was arrested in connection with the seizure and has been released on bail.
The find is the biggest haul of drugs discovered at the port this year and the second seizure in the past four weeks.
On 17 November, officers at the port seized heroin, cocaine, amphetamines and cannabis worth £4.1m found in a trailer of Christmas decorations.
Bill Form, assistant director for the UK Border Agency at Harwich, said: "These successes have prevented illegal drugs worth more than £10.5m hitting British streets.
"If proof were needed that drug smugglers are serious criminals it is provided by seizures of this scale."