Essex schools closed by strikes over pension plans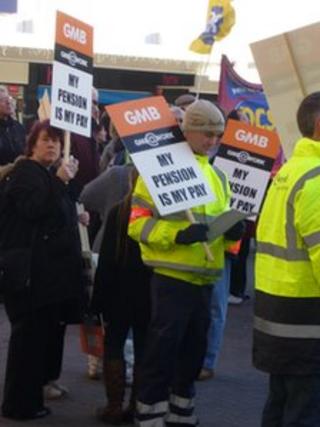 About 200 schools closed in Essex because of strike action over public sector pensions.
Essex County Council said it knew 125 of about 500 schools were closed, 23 partially opened and 10 opened, but was waiting to hear from about 230 more.
Southend Council said 37 of its 55 schools were shut and 36 of 44 had closed in Thurrock.
Cabinet Office Minister Francis Maude said the industrial action was "indefensible and wrong".
Confirmed schools closures are on the Essex County Council and Southend Borough Council websites.
Jerry Glazier, of the National Union of Teachers (NUT) in Essex, said he believed about 400 schools in the county had been affected by the strike action.
The Conservative Essex County Council cabinet member for education, Councillor Stephen Castle, said it was "extremely disappointing" that schools had closed.
One to remain open was Templars Primary and Nursery School in Witham.
Head teacher Kerrie McGrory said none of her 66 staff had chosen to strike.
She said: "[Some] did make a stand last time and did strike, but I think some of them felt the point was already made.
"I am surprised, but it is a busy time of year at school and I think they felt they wanted to be in school."
About two million public sector workers from 30 unions were expected to join the national day of action across the UK.
Up to 150 people attended a joint union rally in Southend in protest at the government's pension plans.
Similar events also took place in Basildon, Chelmsford and Colchester.
Unison's eastern region secretary Glyn Hawker said the day "had already been a success".
She said: "I started my morning on a picket line with people who were cold, fed up that they've got to be there, but absolutely determined they are right to be doing what they're doing."
'Not affordable'
The government said that with people living longer, the cost of public sector pensions was rising and reforms were desperately needed.
Conservative MP for Witham Priti Patel said: "The reality is public sector pensions are not affordable and sustainable in their current form.
"As we live longer our expectations change in terms of our quality of life compared to previous generations and that costs money."
About 40 staff joined a picket line at Southend University Hospital.
Staff nurse and Unison member Linda Leake said: "Difficult times call for difficult choices.
"We've absolutely made sure that no patient suffers here and we've had patients and their relatives come out to support us."
Minimise disruption
A picket line formed outside the headquarters of Essex Police in Chelmsford early on Wednesday.
It included police community support officers (PCSOs), front desk and some emergency call centre staff.
Basildon Council said 50% of its staff had turned up for work, but bin collections would not be taking place as most of its refuse depot staff were on strike.
Southend Borough Council said 170 of its 2,141 staff were on strike.
Stansted Airport said it was operating as normal and was working with the UK Border Agency (UKBA) to minimise disruption.