Electric Palace cinema in Harwich celebrates centenary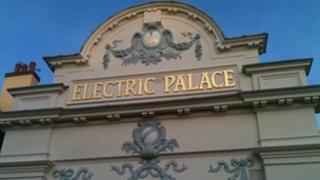 The 100th anniversary of one of the oldest active independent cinemas in the country is being marked in Essex.
The Electric Palace in Harwich screened its first film, The Battle of Trafalgar and the Death of Nelson, on 29 November 1911.
After being forced to close in the mid-1950s, the Grade II listed venue was resurrected after 25 years by a voluntary trust in 1981.
The centenary is being celebrated with a day of special events and screenings.
Chris Strachan, chairman of the Harwich Electric Palace Trust, believed the cinema had survived through the support of the town.
He said: "About 95% of the staffing is voluntary, so the community identifies with it, supports it and it works on that basis."
The cinema was one of several thousand to be built following the Cinematograph Act of 1909.
'Magnificent sight'
Although few photographs of that time remain, Mr Strachan believed it would have been a "magical" venue in the town.
He said: "Mains electricity didn't get to Harwich until 1924, so imagine in 1911, you have a building festooned with light bulbs.
"Nobody had ever seen anything like it before and it was a magnificent sight and became the centre of entertainment in Harwich."
Over the next 40 years the cinema suffered mixed fortunes and closed in 1956. The venue stood empty for years and at one point faced demolition.
A charitable trust was set up to revive it in the 1970s.
Digital equipment
Mr Strachan said: "We saw there was an opportunity to save this building and bring it back into use, although we realised this was a tremendous task and it was going to take years.
"But the town council, I think, recognised we were serious about doing it and offered us a peppercorn lease.
"After a couple of years they saw we were really serious and they sold it as a freehold."
For the past 30 years the cinema has shown films every weekend and recently raised funds to install digital projection equipment.
The 100-year anniversary is being marked by the trust with a number of presentations about the history of the cinema.
This will be followed by a screening of the new Terence Davies film, The Deep Blue Sea.