Queen's jubilee wood to be planted in Hylands Park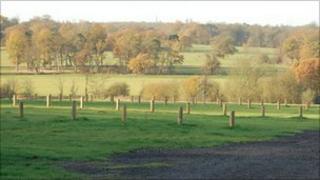 A 3.9 acre (1.2 hectares) wood will be created in Essex this weekend, as part of a project to celebrate the Queen's Diamond Jubilee celebrations in 2012.
Planting of 2,000 oak, ash, hazel, hawthorn and small leaf lime trees will take place at Hylands Park in Chelmsford on Saturday.
The wood is part of The Woodland Trust's aim to plant six million trees to mark next year's jubilee.
Along with the trees, a variety of bulbs will also be planted.
Chelmsford Borough councillor Christopher Kingsley said the wood would be planted to the north-east of the 574 acre (232 hectare) park.
He said: "We shall be linking up two areas of existing woodland to make it a much larger area.
"We need to put some effort in from time to time on planting trees, so this is a good thing to do in it's own right."
The planting will be done by volunteers, led by the council's park staff, between 10:30 and 12:30 GMT.