London 2012: Essex pupils sing with McFly's Fletcher for mascot song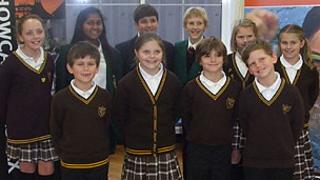 Pupils at a junior school in Essex are to feature on the official song for the London 2012 Olympic mascots.
Students from West Leigh Junior School in Leigh-on-Sea teamed up with McFly lead singer Tom Fletcher to record the song, On a Rainbow.
It tells of the journey mascots Wenlock and Mandeville will make to the Games.
The school's head teacher Cheryl Woolf said: "It's a marvellous opportunity. It's been fantastic to be part of something so big."
The pupils recorded their backing vocals at a studio in London earlier in the year.
They were chosen when the song's producer, Jason Perry, whose children attend the school, needed to find a children's choir at short notice.
'So proud'
Mrs Woolf said: "We could only choose 10 children.
"Approximately half of the 250 children at the school have something to do with music. But these 10 were chosen at random.
"I'm so proud they have done it."
One of the pupils, eight-year-old Sam, said: "I've been in the choir for two years. It was a great opportunity.
"I can't really boast about it, but it was really good."
McFly star Fletcher wrote and performed the song with his sister Carrie.
He said: "I wanted it to be fun for kids and a song that kids could remember and sing along to."