Southend beach Rottweiler attack: Boy's injuries shown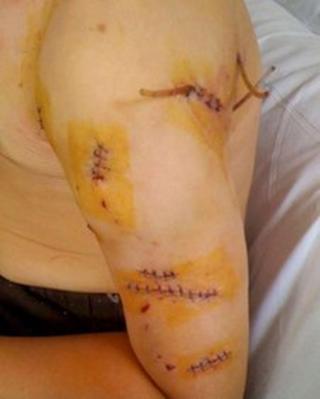 The "horrific" injuries of a seven-year-old boy bitten by a Rottweiler on an Essex beach have been released by police searching for the dog's owner.
The boy was out with his grandmother when he was mauled while paddling in the sea at Southend on 5 August.
Despite public appeals, the owner, who was walking two dogs at the time of the attack, has not come forward.
Police have also created an e-fit of a man they would like to speak to over the incident.
One of the dogs ran into the sea, grabbed the boy across his chest and back and forced him under the water on Eastern Esplanade.
'Impossible to imagine'
His grandmother managed to pull him from the dog's jaws and both dogs and their owner ran on to the promenade.
The boy had suffered 20 wounds to his torso and arms.
PC James Crabb said: "This was a horrific incident and it is almost impossible to imagine how anyone can watch a child being so severely mauled before simply running away.
"It is possible of course that the dogs weren't his and he was walking them for someone else, so please don't be put off from coming forward if he looks familiar but isn't a dog owner.
"If you are the dog walker we are looking for, or if you have stayed silent to protect him or the dogs, please think again.
"Look at this boy's injuries and think how lucky he is that he wasn't even more seriously injured, thanks only to the intervention of his grandmother."
The boy's mother, who does not wish to be identified, said: "I have no doubt that my son's life was only saved due to the brave and rapid reactions of my mother-in-law.
"It is very difficult for us as a family to put this violent incident behind us, knowing that this man is still at large."