Pitsea town centre's £30m redevelopment plans revealed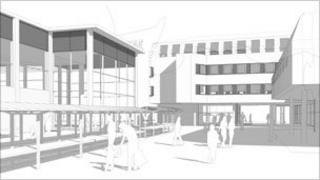 Plans for a £30m redevelopment of a town centre in Essex have been unveiled.
The proposals for Pitsea include a new supermarket, revamped 50-stall market, refurbishment of existing buildings, and a new retail and office block.
The designs have been put up for public consultation by landowners London and Cambridge Properties.
They were devised following Basildon Council's master plan to regenerate the town which was approved in April 2007.
It is claimed the new supermarket could create up to 400 jobs.
Conservative leader of Basildon Council, Tony Ball, said: "Pitsea needs to be a place where people want to visit, and is an important part of the overall regeneration vision for the borough.
"Although the economic climate is tough, we cannot stand still or the town centre will decline further."