Bathside Bay port development in Harwich given extra time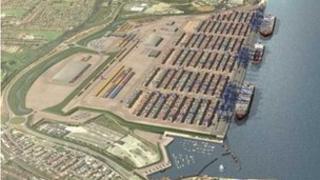 Developers of a proposed £300m container port in Essex have been given more time to start work on the site.
Plans by Hutchison Ports UK to build the deep water terminal at Bathside Bay in Harwich were approved in 2006, but construction has yet to begin.
Tendring District Council confirmed three applications made to it last January requesting more time will not be called in by the government.
Planning permission is now set to be extended for a further five years.
Tendring District Council said a fourth application regarding upgrades to the A120 into the town was still being considered by the minister for planning, Greg Clark.
A decision on that is expected at the beginning of 2012.
Conservative leader of the council, Neil Stock, said until that was resolved construction of the port could not begin.
'Huge boost'
He said: "As it is at the moment it could drag on for a few more years.
"It has taken us several years to get to the position, which is very disappointing for everyone locally who is waiting for this to happen.
"But I'm confident if we can get the right result from the minister on that issue of the road, we could see [work begin] certainly within months."
The project would see the quay almost doubled in length to 2,500 metres (8,202 ft), allowing up to four deep sea container vessels at the port at one time.
It is expected to create about 700 jobs.
Mr Stock said the delays had been frustrating, but said he believed the development would actually go ahead.
He said: "[Hutchison Ports UK] have made it very clear to me they are absolutely committed to building the terminal.
"They've invested tens of millions just to get to this stage, but there has been a downturn due to the economic crisis around the world."
Mr Stock believed the development would be a "huge boost" for the district.
He said: "It will make a really terrific, almost an unimaginable difference, not just to the town of Harwich or the district, but the whole of Essex.
"It is the major catalyst for regeneration in Tendring."