Dale Farm: clearance by Basildon Council completed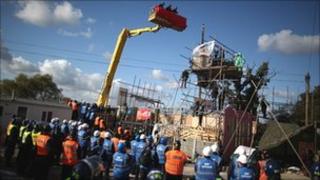 The clearance of the UK's largest illegal travellers' site has been completed, a council has said.
Police and bailiffs moved on to Dale Farm in Essex on 19 October following a 10-year dispute between travellers and Basildon Council.
Contractors have now removed caravans and hard standing from 51 plots which did not have planning permission.
Council leader Tony Ball said it would restore Dale Farm to a site in keeping with its green belt status.
He thanked council officers, contractors and partners, who left Dale Farm on Monday, for their professionalism during a difficult task, and Crays Hill residents for their patience.
'Recovery of costs'
The site clearance had been due to take place a month earlier but was stopped in its tracks when travellers won a High Court injunction to restrain the council and delay their eviction.
A High Court Judge sided with the council on 3 October, and travellers who sought a subsequent leave to appeal were refused.
Mr Ball added: "This is not the end of the project for the council, and we have a number of outstanding issues to work through, including seeking recovery of costs for the delay caused by the injunction and the overall costs of the operation.
"Now that the site clearance has been completed we will turn our attention to any remaining breaches of planning regulations on the site and also any new breaches at the authorised Oak Lane site."
He urged travelling communities to "engage with their local authorities", seek planning permission and comply with the law.
"Nobody wants to see another Dale Farm," he added.
Rehoming bid
About 85 families lived on the 51 illegal plots, which covered half of the site.
The council has said the "overwhelming majority" have found accommodation elsewhere.
Former site residents John Sheridan, Barbara O'Brien and Mary Flynn are seeking a ruling against the council from the Appeal Court to demand to be rehomed in caravans and not conventional housing.
A total of 43 people have been arrested in connection with disorder at Dale Farm, 34 of which were made on the first two days of the site clearance.
Protesters chained themselves to the entrance gates and had to be removed by police from a 40ft (12m) high scaffolding tower.