London 2012: Essex people want to keep Olympic mountain bike course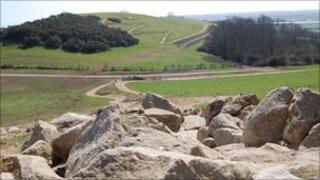 Residents say they want to keep a three-mile (5km) Olympic mountain bike course in Essex after it is used for the London 2012 Games.
About 40,000 were consulted on the future use of the Hadleigh Farm course.
Some 12,000 people responded to a county council questionnaire and indicated the course should be opened to as many users as possible.
They also wanted the area retained for walking, visits to the Hadleigh Castle site and interests like bird watching.
Many residents also wanted visitor facilities to be improved.
More than 60% of those who responded to the questionnaire already walk and cycle at the site, with historical usage such as visiting the castle and bird watching also high with 53% and 38% positive comments respectively.
Nine out of 10 respondents felt cycling was either quite important (13%) or very important (77%).
Cycling was closely followed by general visitor facilities, with 87% of respondents seeing them as an important improvement to the venue.
Stephen Castle, cabinet member for education and the 2012 Games, said: "As we had hoped the people of Essex are keen to maintain the mountain bike course and open the venue up to the wider public for a number of different uses.
"We are committed to making the most of the opportunity of hosting the London 2012 mountain bike events to create a legacy for not just Hadleigh but for Essex."