Dale Farm evictees seek rehoming judgement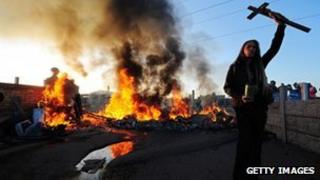 Evictees from the illegal part of Dale Farm travellers' site in Essex are going to the High Court to demand to be rehomed in caravans.
The clearance of the UK's largest illegal travellers' site, in Crays Hill, is nearing completion.
Former site residents John Sheridan, Barbara O'Brien and Mary Flynn are seeking a ruling against Basildon Council from the Appeal Court.
The council said it would not comment until the full hearing next month.
"Today's hearing was to clarify the grounds of appeal," said a council spokesman.
'Aversion to bricks'
The travellers' lawyers aim to argue that Basildon Council acted unreasonably in offering only conventional flats or houses as alternative accommodation.
A county court judge ruled in favour of the local authority following a hearing in Southend, Essex, in October 2010.
Travellers were on Friday given permission to appeal against the county court ruling, following a preliminary appeal court hearing in London.
Alex Offer, for the three travellers, outlined the arguments his clients wanted to make, at a hearing before Lord Justice Patten.
He said his clients had an "aversion" to living in "bricks and mortar" and would argue that local authorities had an "obligation" to provide "suitable" accommodation which would allow "members of the Gypsy community" to continue their traditional way of life.
Lord Justice Patten granted the three travellers permission to appeal.
The court was told that appeal judges were scheduled to hear full arguments from both sides at a hearing in London starting on 14 December.
Lawyers said afterwards that any Appeal Court ruling on the issue could affect other travellers.