Dale Farm: Second clearance might be needed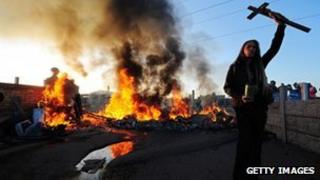 A second operation to clear travellers from Dale Farm might be needed to combat overcrowding on legal settlements, a council leader has said.
The clearance of the UK's largest illegal travellers' site, in Crays Hill, Essex, is nearing completion.
But Basildon Council leader Tony Ball said many families had simply moved to legal plots nearby.
A travellers' spokesman said the council should wait until the weather improved.
Around 50 caravans are thought to be on the site, exceeding planning regulations.
Mr Ball said: "Although the majority of the 400 people who lived on Dale Farm have moved on, and there have been no complaints of trespass linked to them, it seems many have moved on to the legal side of the site.
Seize ownership
"This may exceed planning regulations and we will be looking at the extent of that. Also, because the caravans are packed very tight, it poses a health and safety risk.
"We will talk to the travellers and take legal measures but, ultimately, we may have to resort to further direct action in order to remove them.
"We hope it doesn't come to that, but it is very much a possibility."
Mr Ball said the council had now removed all caravans and chalets from the illegal half of the site and bulldozed roads and hardstandings.
"We have put in place physical barriers to prevent them resettling and have obtained an injunction which should act as a legal barrier to them doing so," he said.
'Put in a coffin'
The council could seize ownership of the Dale Farm site in an attempt to recover its costs.
Mr Ball said: "We are working to calculate the precise cost of the operation but expect it to be within our £8 million budget.
"We will seek to reclaim as much of that as possible and one option would be to seize the site."
Cliff Codona, chairman of the National Travellers' Action Group, said the authorities should wait until the weather improved before attempting a second eviction.
"It's not in the middle of summer when people can swanee off and stop anywhere," he said.
"It's a terrible time of the year to be made homeless. It's like being put in a coffin."
Last month's clearance operation followed a decade-long row over unauthorised plots.