London 2012: Amateur gardener 'honoured' by Olympic Park role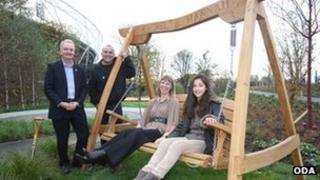 An amateur gardener who helped design part of the Olympic Park in Stratford has said she is honoured to have played a part in its creation.
Rachel Read, from Colchester, came up with some of the ideas for the RHS Olympic Park Great British Garden.
She won the opportunity through a Royal Horticultural Society competition, along with 12-year-old Hannah Clegg.
Mrs Read said: "Every time the Olympics is mentioned I do think 'yes I've got a little bit of ownership on that'."
She added: "I feel very honoured to have been a part of such a huge and prestigious project."
As part of the competition, the occupational therapist worked with the Olympic Delivery Authority to turn her winning design into a reality.
'Quite amazing'
She visited the 1,000 sq m garden on Wednesday, as the completion of the planting of the Olympic Park was marked.
It is an amalgamation of Mrs Read's "spiral garden" design and Wiltshire schoolgirl Hannah Clegg's "gold, silver and bronze gardens" design.
Mrs Read said: "It really does look like it did on the plan. It's quite amazing how they've kept it true to that plan.
"You can make more sense of the space because it's really three-dimensional now.
"We were able to walk through the garden and see all the different parts of it, so it was really good to see."
The garden, in the south part of the Olympic Park, is overlooked by the Olympic Stadium.
Mrs Read said she felt the Great British Garden fitted in well with the rest of the park.
She said: "They've taken our ideas and they've planted it up really sympathetically with the planting of the rest of the park.
"So it's its own separate thing with its own identity, but it is still linking in with the rest of the park."