Seized cars loaned to Basildon motor mechanic students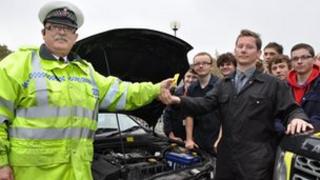 Cars seized by the police are being loaned to an Essex college for student mechanics to learn their trade on.
Eleven vehicles confiscated from uninsured or unlicensed drivers have been sent to South Essex College in Basildon over the past three months.
Once the cars have been worked on by the students, they are sent for scrap.
PC Paul Barber, of Essex Police, said: "Because of the law they can never go back on the road, so it's ideal for the students here to use."
He added: "When you think of the cost of a reasonable car from a scrap yard, we are able now to take a little bit of that expense away from the college."
He said cars seized from drivers were either sold or scrapped if not reclaimed by their owners within 14 days.
Mark Davison, an instructor at the college, said having modern vehicles to work on was invaluable for its 180 motor mechanic students.
"The better experience we can give them on modern cars, when they're up against other students or people in the industry to get employment, they're going to have a better chance."