Council wins injunction to stop Dale Farm return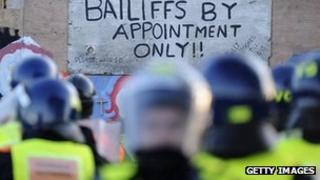 The council evicting travellers from the illegal part of Dale Farm in Essex has won an injunction to prevent its reoccupation.
Basildon Council has been granted a High Court order to prevent residents returning to the land.
The UK's largest travellers' site was cleared last month following a 10-year dispute over unauthorised plots.
Council leader Tony Ball said: "I am satisfied the injunction has been granted."
All 51 illegal plots have now been cleared.
Mr Ball said the council had applied for the injunction as routine practice after a site clearance.
Reuben Taylor, acting for the council, told the court on Friday he believed travellers evicted from Dale Farm had told staff involved in the clearance they would return once workers had gone.
Speaking after the ruling, Mr Ball said: "We believed that some previous residents of Dale Farm planned to illegally reoccupy the site and the injunction will put them in contempt of court for doing this.
"I would urge that travellers do not use Dale Farm for residential purposes, and from now on comply with the law and find new sites legally."