Dale Farm travellers 'threaten to return'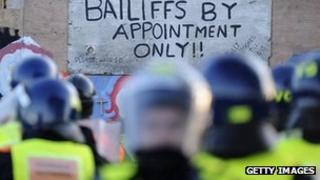 Travellers are threatening to return to Dale Farm in Essex once workers have finished clearing the site, a High Court judge has been told.
Lawyers for Basildon Council, which began the eviction on 19 October, said travellers had told contractors that they aimed to return.
Mr Justice Langstaff said he wanted more detailed evidence of the threats before granting any injunction banning the reoccupation of the site.
He adjourned the hearing until Monday.
The council eviction of travellers from the illegally occupied section of the Dale Farm site followed a decade-long row over unauthorised traveller plots.
'Infamous' site
Contractors started clearing caravans and hard-standing (a hard-surfaced parking area) after a major police operation to remove protesters.
Reuben Taylor, for the council, said it was seeking an injunction under planning legislation, prohibiting residential use of the site and the siting of caravans or formation of hard-standing.
He said travellers evicted from Dale Farm - which had become "infamous" - had moved to a nearby legal travellers' site, but had told staff involved in the clearance that they would return once workers had gone.
"It is simply that the contractors are coming towards the end of their operation. They will leave the site very shortly," Mr Taylor told the judge.
"Officers have been informed by the former residents of the site that they intend to come back on the land."
He told the court: "They have been saying to officials from the council, who have been on the site clearing hard-standing, that they intend to move back on to the site that has been cleared as soon as contractors leave."
Mr Taylor said the council wanted a court injunction to prevent that from happening.
Government ministers responsible for planning had consistently refused planning permission on the basis that development was inappropriate and would harm the character and appearance of greenbelt land, he told the court.
Mr Taylor said High Court and Appeal Court judges had backed the council after legal challenges by travellers.