Tony and Barrie Drewitt-Barlow cleared of 'clinical errors'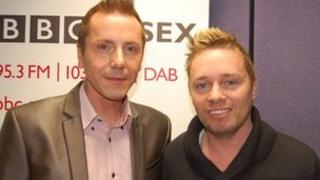 Two Essex businessmen and their colleagues, who produce a range of cosmetics, have been cleared of falsifying clinical trial results.
Tony, 47, and Barrie Drewitt-Barlow, 42, from Maldon, were cleared of all charges at Southwark Crown Court.
The couple, who were Britain's first gay surrogate parents, had denied all charges by the Medicines and Healthcare Products Regulatory Agency (MHRA).
A review has been ordered into the handling of the case.
The pair, who who ran Euroderm Research, were accused of fabricating test results for two clinical trials, one of them for children's medication, between July 2006 and June 2007.
Speaking after the verdict, the couple said: "We are delighted the jury found us not guilty of all charges and that this nightmare is finally over."
The partners denied two charges of conducting a clinical trial other than in accordance of good clinical practice.
They also denied two counts of not conforming to protocol when conducting a trial.
The couple's three former employees, Dr Alex Morgan, Mandie Mayes and Dr David Shuttleworth were also cleared of all charges.
Dr Morgan, 65, of Corporation Street, Holloway, north London, was charged with two counts of contravening the regulations; Ms Mayes, 50, of Mill Road, Maldon, Essex, was charged with four counts; and 58-year-old Dr Shuttleworth, of Chappel Road, Fordham, Colchester, Essex, faced five charges.
Euroderm Research - which had offices in Chelmsford in Essex, and Manchester - went into liquidation in March 2008.
The judge in the case ordered the jury to find all defendants not guilty of all charges on Thursday after the prosecution asked for the case be withdrawn.
A spokesman for the MHRA said it would conduct a review into the handling of the case and take appropriate action once it was concluded.