Essex maternity patients asked to switch hospitals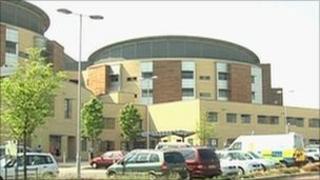 A hospital in east London is asking maternity patients who live in Essex to use other hospitals to give birth.
Queen's Hospital in Romford has written to about 180 mothers-to-be suggesting they use units in Essex to ensure its wards did not became too busy.
The changes affect Essex patients due to give birth at the hospital between mid-October and April 2012.
It said it made the decision before a recent critical Care Quality Commission (CQC) review of its maternity services.
Last month the review revealed "serious problems" at the hospital following the death of two women and one of their babies there.
Hospitals at Broomfield and Basildon have been suggested as alternatives.
Barking, Havering and Redbridge University Hospital NHS Trust said the change was designed to ensure "safe care" for women giving birth.
'Reduce busyness'
It said it hoped it would mean no more than 20 women would be on the Queen's Hospital maternity ward at any one time.
The hospital's director of nursing, Deborah Wheeler, said: "We need to look at how we reduce the busyness through the unit at Queen's whilst we properly bed-in all of the changes and improvements we've been working with the CQC on.
"We are absolutely committed to ensuring all of the recommendations are acted upon so every woman who comes through this unit has a good experience."
She added plans were in place to increase midwifery capacity at the hospital and it intended to start taking bookings from people in Essex by April 2012.
Emma Whiteford, associate director for quality in nursing at the NHS South East Essex Cluster, said the impact on the Essex hospitals taking on the patients would be "minimal".
'Sensible decision'
She said: "In each of those hospitals we're looking at one to two deliveries extra per week within those departments. We are not talking big numbers.
"By reducing the number [of births at Queen's] we can ensure the midwives-to-women ratio is maintained at a very safe level and all staff are of a very senior standard."
The chair of Essex County Council's health scrutiny committee, Graham Butland, admitted the situation was "not ideal" but believed it was a "sensible decision".
He said: "Access to quality services is important and that's why we're prepared to accept, for a short while, until things improve."
He added the committee had been "impressed" by the new management team at Queen's Hospital.