Fire at Essex garage forces 100 people from homes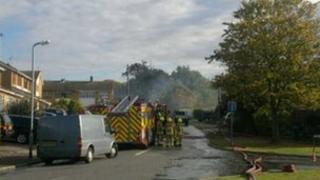 Up to 100 people have been forced to leave their homes in Rayleigh, Essex, following a fire in a garage containing acetylene cylinders.
Firefighters were called to the garage in Bull Lane at 08:10 BST.
An exclusion zone has been set up around the site and Essex Fire and Rescue Service said the zone could be in place for up to 24 hours.
Residents forced to leave their homes have been taken to a nearby centre, organised by the local authority.
Assistant Divisional Officer Simon Dedman said: "Getting people back into their homes is a priority for all of us, but this must be done safely and cannot happen until we are certain that the area is completely safe."