Paycocke's in Coggeshall undergoes £187,000 restoration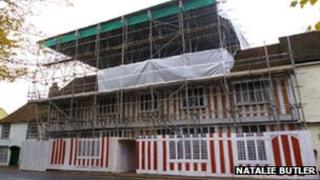 Work is to begin on a £187,000 restoration of a 500 year-old Grade I-listed merchant's house in Essex.
Work on the roof at Paycocke's in Coggeshall will see its tiles replaced and damage to structural timbers inspected and repaired.
Its owners, the National Trust, said the roof of the former merchant's house had been in need of major repairs for over 30 years.
Work begins on Monday and is due to be completed by the end of January 2012.
The house will be closed to the public during this time.
Work will also take place to insulate the roof voids and fit a breathable membrane to ensure the building is watertight.
'Intriguing history'
The original roof dates back to 1588 and it was last re-roofed in the late 19th Century, with a number of "patching-up" repairs since.
The National Trust, who have owned the building since 1924, said it had been deteriorating over several years, accelerated by recent harsh winters.
As well as allowing water to get into the building, the damaged and displaced tiles have also become a safety concern.
The charity said it would also use the time to develop the understanding of the building.
The project's building surveyor Dan Thomas said: "We are hoping to learn a lot more about the intriguing history and fabric of the house during the works."