Give an Hour: Plans for more 'superfast' broadband in Essex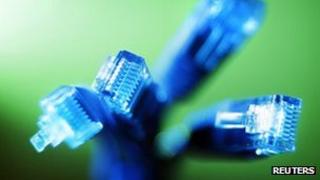 "Superfast" broadband should be available to 75% of Essex by 2017 under plans being devised by local councils.
The £26m scheme, funded by government, local authorities and the private sector, also aims for 100% fast broadband coverage by 2015.
It is part of the government's £530m programme to improve broadband and communication technology.
Conservative Essex County Council leader Peter Martin said broadband was vital for homes and businesses.
The government has allocated £6.4m to improve provision in the county, which includes areas covered by Essex County Council and the unitary authorities of Southend and Thurrock.
The funding will be matched by the local authorities and the private sector.
According to the county council, it is hard to get an exact picture of broadband coverage in Essex.
However, it is acknowledged there is a large disparity between areas with superfast broadband (24 megabytes per second or more) and so-called "not spots".
It is known that 220,000 premises currently have a poor broadband connection, many of which are in rural areas.
'Grow their businesses'
Mr Martin said they had received a lot of feedback from both businesses and individual users calling for improved coverage.
As a result, he said, the money the authority was putting towards the project was justified at a time of reduced council budgets.
He said: "[Businesses] increasingly want to work in rural areas and they need fast broadband [at least 2 MB/s] for their business.
"One of the key responsibilities that we have as a county council at the moment is to get people into work.
"We can do that in a number of different ways, and broadband is what business is telling us they need grow their businesses."
He added that contact had been made with companies in the private sector, such as service providers, and a number of commitments to the scheme had been made "in principle".
Those already online are being encouraged to share internet skills as part of a BBC campaign called Give An Hour.
It aims to get the UK's 30 million daily internet users to help somebody they know to get online.