London 2012: Chelmsford dentist to lead Olympic team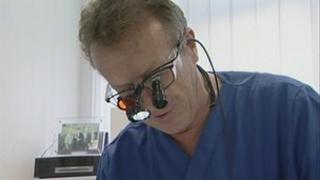 An Essex dentist is to lead the team responsible for the care of more than 40,000 mouths at the 2012 Olympics.
Tony Clough, from Chelmsford, will be responsible for the athletes, back-up teams and officials at the Games.
Having performed a similar role at Beijing in 2008, he said his team would deal with about 700 cases in London.
He said: "The biggest priority is going to be emergency care like broken teeth and abscesses, which are going to happen among 40,000 people."
All of the care will be paid for by the games organising committee and be free to the athletes.
Mr Clough's team will be based at the Olympic Park in Stratford, plus two satellite clinics in Weymouth for the sailing and Eton for the rowing.
Fizzy drinks
Dentists will also be present at the boxing, basketball, taekwondo, judo, handball, water polo, hockey and football events.
Mr Clough said: "If it's something that is minor we can patch it - maybe a tooth that's been broken. Within about five to 10 minutes they're back on the field of play.
"If they've got a loose tooth we can splint it and get them back on."
As well as emergency procedures, the team will also provide routine checks during the nine weeks of the Olympic and Paralympic Games.
Mr Clough explained athletes were particularly vulnerable to dental problems.
He said: "It isn't because they don't particularly look after themselves or come from underprivileged backgrounds.
"It's because they're constantly drinking sports drinks, fizzy drinks and sweet drinks, because they need to.
"For example, with a rower, they need to put in 4,000 to 6,000 calories per day and the way they do that is through drinks."
With drug testing being a high priority for the International Olympic Committee, one obvious concern for the team will be the medication and injections they give.
However, Mr Clough said: "We're quite fortunate. Obviously we give a lot of anaesthetics and there's only one particular drug which we administer which is a steroid.
"But it's not an anabolic steroid, so from that point of view we're pretty much covered, so don't have to worry too much."