Clacton car accessory inventor Gary Smith wins award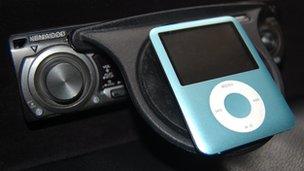 The designer of a car accessory from Essex has won the top award at the British Invention Show in London.
Gary Smith, from Clacton, beat competitors from across the world to take the Most Innovative Design award for his "CD Slot Mount".
It fits into the CD player to provide a platform for items such as sat navs, iPods or mobile phones to be put on.
"When they announced it you could have knocked me down with a feather," Mr Smith, 57, said.
"At the show it was amazing because there were people there with some mind-blowing things and for them to choose this, which is a simple product, was amazing."
He explained he had spent about two years developing what is his first ever invention.
The idea was sparked when his sat nav was stolen from the dash board of his car and he was looking for a less visible place to put it.
The result was a non-sticky plastic pad on which items can be placed on, which then slots into the front of a car's CD draw.
Mr Smith began marketing his invention at the beginning of the year and currently produces about 10 a week.
He said the journey from design to manufacturer had been a "very enjoyable process" but was keeping his ambitions in check.
He said: "I think there is about 800 million cars in the world and probably 500-600 million that have got CD players.
"So the potential is quite big, but I'm under no illusions, it's very early days, but it obviously has caught the imagination."
The British Invention Show took place at Old Spitalfields Market.
The awards ceremony included categories for best British and international invention, innovation and environmental designs.
Related Internet Links
The BBC is not responsible for the content of external sites.