Drivers in Epping Forest warned about rutting deer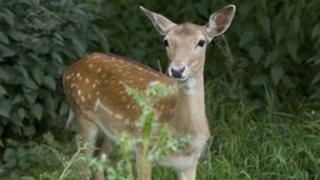 Drivers in west Essex are being warned about the increased dangers of deer in the roads during their breeding season.
Motorists driving through Epping Forest have been told to be more vigilant as bucks are less aware of their surroundings during the rutting season.
Epping Forest District Council said accidents involving deer always went up towards the end of October.
So far this year 49 deer have been killed in road accidents, compared to 69 last year and 39 in 2009.
Conservative councillor John Knapman said it was a "difficult problem at this time of year".
He continued: "This is a significant danger for us, and of course it's a real danger for both deer and driver.
"Particularly at night, because there are no lights in the forest except the car lights.
"There are some reflectors on some of the trees to help the deer pick up a bit of warning."
Earlier this year verges along the B1393 and the B181 through the forest were cleared in order to improve the visibility for both drivers and deer.
The Highways Agency has advised drivers to dip their headlights when they see deer and to not approach an injured animal following a collision, but to call the emergency services.