Dale Farm eviction: 'Show of force designed to shock'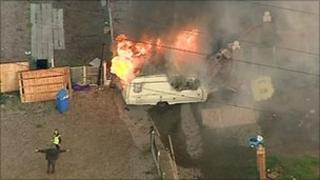 They had been told to expect "no surprises" from the council.
The police, the travellers were told, would only be there to maintain the peace and prevent criminality.
But when they struck, the eviction operation was sudden and unexpected. This was a police operation to break the siege of Dale Farm.
They came in at first light, across a farmer's field, outflanking protesters who had chained themselves to the main gate.
And within minutes, seven weeks of defensive preparations proved futile. Tasers had been deployed, and more than 100 riot police had breached the barricades.
It was an impressive show of force, designed to shock the travellers and supporters. First the perimeter fences, then plot by plot at a running pace, the police marched on to their goal - seizing control of the main gate.
'Bricks were flying'
Anyone who stood in their way was knocked aside with riot shields. I saw batons being used, and snatch squads pulling out the ring leaders.
This was not gratuitous violence. Just an imposition of control in a chaotic moment. Bottles, bricks and sticks were flying - thrown by protesters and travellers alike.
Past Camp Constant, the headquarters of the protesters, they ran.
A few plots were supposed to be off limits - travellers who lived there legally were safe from the bailiffs. But the police, from the Met, and even South Wales, broke through fences, kicked down protected walls, and entered the legal Dale Farm compound.
Some travellers did stand in their way. Nellie Sheridan was pulled from the ruck and dumped on the hard core. In tears, she complained of back pain and was later taken to hospital.
Hours later, she was re-admitted on a stretcher, with a suspected back injury.
Caravan alight
Another resident, Margaret Sheridan, showed me grazes on her face. She said she had been pushed over by the police.
Others vented their fury by setting light to a redundant caravan. It burned fiercely below a high voltage power line. Later a second trailer was pulled into the road and it too was torched.
And it all happened just feet away from where we had camped the night before. A night which had been spent around the camp fire with the travellers as they savoured their last few hours of calm.
They knew the end was coming. They had had 10 years of clinging to the cliff, fighting off legal challenges. Finally their luck ran out.
But there will still be travellers at Dale Farm camp. Half the site is legitimate and even within the illegal camp, five plots are safe.
Tonight travellers still sleep on camp. The cat and mouse game with the council will carry on. For some £20m, the residents of Basildon have seen planning anarchy prevented.
There is talk still of European law, of siting vans on vacant plots once the council bailiffs have gone.
The story of Dale Farm is not over yet.