Dale Farm: Evictions 'can go ahead' but injunction remains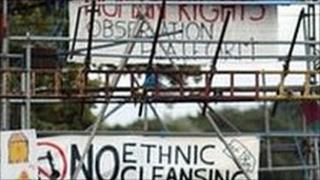 A judge has ruled Basildon Council can remove caravans from 49 out of 54 plots at the Dale Farm travellers' site once outstanding legal issues are resolved.
The judge at the High Court told the council it could also remove the majority of concrete pitches on the site.
The ruling states however that walls, fences and gates should remain on site.
An injunction preventing any removal of travellers from the site is expected to remain in force until at least Tuesday.
During Monday's hearing, Basildon Council was seeking the lifting of an injunction put in place when the travellers brought their own legal case in a bid to avoid eviction as bailiffs prepared to move in.
The council had been ordered to provide detailed information on how it would approach the clearance of the site.
This was done and the council has now won a partial lifting of the injunction.
Clearances halted
Residents have also made three separate applications for judicial review to stop the clearance of their homes, which are due to be heard later this week.
The council has been ordered to pay a third of the travellers' legal costs in relation to the injunction at the centre of Monday's hearing.
The authority has been attempting to remove travellers from the Dale Farm site for a decade. The site is on green belt land and is thought to currently house about 400 people on the pitches.
The clearance of the six-acre site was halted earlier this month when lawyers for the travellers obtained a High Court injunction preventing bailiffs moving in while the courts were asked to rule on several areas of contention.
The Court of Appeal previously ruled against the travellers on a human rights application in 2009.