Dale Farm: Travellers 'win' latest round in eviction fight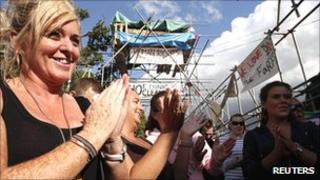 Residents on the UK's largest illegal travellers' site have won a temporary reprieve in their battle to stay.
A High Court judge ruled travellers at Dale Farm in Essex were entitled to an extension of an injunction stopping their evictions.
He adjourned the case until Thursday saying the courts needed first to rule on the legality of their removal.
Basildon Council has been involved in a 10-year battle to clear 51 illegal plots from the site.
The authority has been challenging an injunction won by the travellers a week ago at the Royal Courts of Justice.
The injunction came just as the £18m eviction process was getting under way last week.
Negotiation call
Reacting to the news, Dale Farm resident Kathleen McCarthy, said: "Every day is a blessing and we feel that at least our arguments are being listened to.
"One thing is certain: we will all stand together. Either we all go or none of us go, we will not let the council divide us."
She added: "We are still calling for the council to sit around the table and hold negotiations.
"We will resist the clearance and some of us could stay legally forever. This is in God's hands and who knows where it will end."
She said: "We have no quarrels with the settled community. If they want to protest against us they can.
"We want to stay for another 30 years. We want to do what is legal and right."
Emerging from court, Conservative council leader Tony Ball, said: "What we've seen today is the wheels of justice grinding slowly forward, but I would like to say it's been a good day for Basildon's residents and for the majority of people who support the council's stance on this issue.
"And my reading of today, the message I can give to them, is that we are getting there."
He said he hoped that by the end of Thursday the council would be able to "clear the majority of the plots".
'Huge confrontation'
He said: "I absolutely agree with the judge that justice needs to be seen to be done, and after 10 years... we will wait a few days to get it right."
Richard Howitt, Labour MEP for the East of England, said he was concerned at the way the eviction plans were being handled.
He said: "We need to have a decision outside the courts to save money and get away from this huge confrontation.
"There are alternatives available but Basildon Council refuse to talk about them. Now is the time for humanity to take over, that is why I want to act as a mediator."
Villagers living near Dale Farm have said that if the clearance does not go ahead they will stage their own protest march.
Len Gridley, whose home backs on to the site, said he was beginning to doubt whether the eviction would go ahead.
He added: "This has been going on for the last 10 years and every delay raises new doubt in my mind.
"They've abused the system and I've lost faith in the council's promises to resolve this."
Ramsden Crays parish councillor Roy Reeve said residents were frustrated by the delays and were likely to become increasingly vocal in an attempt to ensure the clearance went ahead.
The judge ordered that no caravans should be removed until the travellers' application for judicial review - which is being heard on Thursday - was dealt with.
He also ordered that no chalets - made up of twin-unit caravans on four pitches - or fences or gates should be removed until he had heard separate legal arguments at a court hearing on Monday.