Dale Farm: Group of MPs call for eviction suspension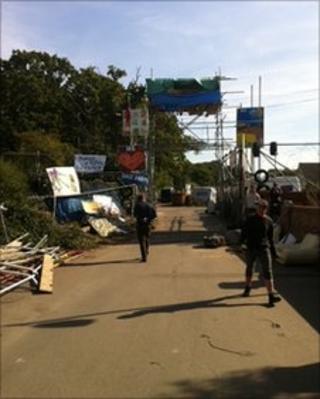 A group of MPs has written to Basildon Council asking for the suspension of the eviction of travellers from the Dale Farm site in Essex.
Andrew George MP, chair of the All Party Parliamentary Group for Gypsies, Roma and Travellers, has delivered a copy of the letter to Downing Street.
In the letter, Mr George suggests an alternative "solution" is to find a new temporary site.
Basildon Council said all options had been exhausted.
Also on Thursday, Tony Ball, leader of council, said in an open letter to residents of Dale Farm that violence would not be in anyone's interest.
Mr Ball writes: "I am very concerned that any resistance might lead to law breaking and even violence. If this does happen it will not be in anyone's interest.
"The only thing that such action could achieve is to put you, your families and indeed council staff and police in danger."
Travellers on the Dale Farm site at Crays Hill are holding out for a last-minute reprieve from next week's planned eviction of illegal plots.
Medical evidence relating to sick and vulnerable residents is to be heard at the High Court on Friday.
'Alternative accommodation'
At least eight caravans have left Dale Farm since Tuesday. A chalet left the site on Wednesday.
Conservative-run Basildon Council is to begin an eviction on Monday over 51 illegal plots. The operation to remove the illegal homes and bulldoze the land could take six to eight weeks and cost up to £18m.
In the letter, Mr George said a solution was achievable which would save money and allow the illegally-occupied portion of the site to be restored.
This would involve identifying a "temporary" site for the residents of Dale Farm to move on to, and time for them to secure "alternative and culturally appropriate accommodation".
Residents and supporters have said they will resist the eviction peacefully but police are preparing a major operation to assist the council.
Basildon Council said eight families have already left, out of a total of more than 80.
The council said it has exhausted the judicial process and had no option following a 10-year dispute.
A "holding area" is said to have been identified for the mobile homes to be taken to, and the council said for health and safety reasons all travellers will have to leave the Dale Farm site during the clearance.
Travellers own Dale Farm but half the site has no planning permission and is occupied by an estimated 400 people.