Epping MP Eleanor Laing calls for Magna Carta holiday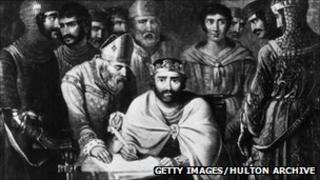 An MP has called for an extra bank holiday in 2015 to mark 800 years of the sealing of the Magna Carta.
Eleanor Laing, the Conservative MP for Epping Forest, raised the issue in a Ten Minute Rule Bill at the House of Commons on Wednesday.
She said 15 June 2015 should be designated a public holiday to mark the sealing of the documents by King John and rebel barons in 1215.
Mrs Laing described it as a "momentous occasion" in English democracy.
She said: "Laws have changed and 800 years is a very long time in the evolution of our constitution and human rights.
"But the principles of the Magna Carta are the foundation for our entire legal system and system of human rights."
The Magna Carta, which is Latin for "great charter", is one of the most famous documents in English history.
An agreement between King John and the barons of England, it was seen at the time as the solution to a political crisis in medieval England.
It guaranteed basic freedoms and property rights to "free men".
'Celebrating freedom'
Mrs Laing said she appreciated the impact an extra public holiday would have on schools, public services and businesses.
However, she suggested the 2015 date could either be a one-off or replace the first bank holiday in May.
Although the Magna Carta did not affect Scotland, the MP said the day should be celebrated across the UK.
She said: "What we would be celebrating on 15 June would be our freedom, and there's nothing more important than freedom."
Several other occasions have previously been suggested as being marked by a public holiday.
They include St George's Day, Trafalgar Day and Armistice Day.