Dale Farm traveller camp: Leave peacefully call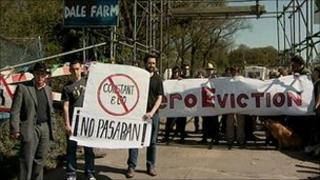 Officials organising the eviction of families from a huge illegal travellers site in Essex have issued a final plea for them to leave voluntarily.
The travellers failed in a High Court bid to stop the eviction on Wednesday.
Basildon Council leader Tony Ball said: "I am making a final appeal to the residents to leave Dale Farm peacefully."
The travellers vowed to fight any eviction plans and supporters have gathered at the site.
Mr Ball said: "I would also ask any visitors to the site or anyone who truly has the travellers' interests at heart to urge them to do this as well."
'Huge waste'
The eviction notice follows a decade-long row over unauthorised pitches on the site, which is owned by the travellers.
An estimated 400 people on 80 different pitches say they face losing their homes. Among them are young children and older people with health problems.
A spokesman for Basildon Council said: "As the terms of the notice have not been complied with, the council along with its contractors now plans to take direct action to clear the site.
"This will involve the removal of caravans and mobile homes ahead of digging up hard standings, roads and outbuildings."
On Wednesday, traveller and mother-of-two Mary O'Brien, who has lived on the site for 10 years, said: "If they come in with bulldozers we will put up a fight.
"All this will do is move us 50 yards down the road and it will be a huge waste of public money."