Dale Farm Camp Constant's 'gesture of defiance'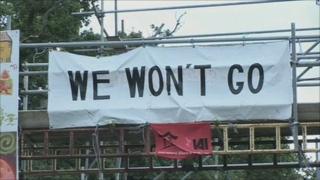 They arrived at the UK's largest illegal travellers' site in dribs and drabs, some bearing rucksacks and roll mats. A mish-mash of well-wishers, seasoned campaigners and activists.
No-one knew how many would come. Apparently as many as 1,000 had signed up to protect Dale Farm in Essex from the bailiffs.
But to begin with the inhabitants of Camp Constant were outnumbered by the gathering posse of cameras and journalists.
Beside the scaffold entrance to the illegal part of the camp, someone had strung a green tarpaulin. Beneath it, supported by piles of tyres, a makeshift welcome desk.
The same tyres which will be recycled into a barricade designed to stop the eviction, which is expected some time in September after a 10-year legal battle.
Signs of organisation
Three women turned up on their bikes. Another family came with their four-year-old daughter. Others by camper van, and another by taxi.
In a field tent, Sam was preparing lunch for 50. That is the number she was expecting at the protest camp, and she was probably right.
The meal was vegan, some balsamic vinegar stirred into the camp pot of bolognese, accompanied by fresh salads.
Around her, other signs of good organisation. A jobs list chalked on a board. Among the chores, litter-picking, and a sign reading: "If you see something that needs doing, do it".
Several people from Germany and Sweden had joined the family from Long Melford; the IT technician from London; a teacher and university students, and squatters from Brighton.
Camp Constant takes it name from the firm of bailiffs, Constant and Co, which has the multimillion-pound contract to clear 54 pitches at Dale Farm.
Learn about culture
Two marquees have been erected on one of the many empty pitches on the site.
Some protesters have vowed to stay until the eviction begins, others were just here for the weekend. A chance to show their support and to hear about traveller history and culture.
Other activities would be on offer later, barricade building, resistance strategies and mock eviction practice. Those were not on show to the media on Saturday.
Sympathy has been in short supply towards the travellers among some in the general population.
The Irish travellers cite racism, and it is true that prejudice does exist in some quarters around the village of Cray's Hill - but here was genuine warmth.
Fiercely protective
The travellers have lived here for 10 years. They own their plots, but do not have permission to live there.
They are grateful too for that support as the clock ticks down towards next Wednesday's deadline to leave.
Officially the land is still green belt, but beneath the caravans and bricked in mobile homes, are buried scrap cars, remnants of a scrapyard that was once on the site.
Some of the men do not want to be photographed as they drive by in their vans; fiercely protective of their right to conduct their business in privacy.
But the women folk openly express their fears about being turfed out.
There is one last legal fight - a hearing in the High Court on deadline day where the travellers will seek an injunction to postpone the eviction.
They say three outstanding planning applications must be resolved before the bailiffs move in. But the legal fight has all but run its course and the eviction is set for September.
Among the remaining travellers, defiance still. Camp Constant is a gesture of defiance too, but so far at least the numbers are small.