Harlow Foodbank sees 35% increase in demand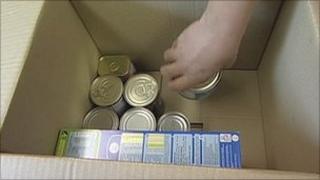 A food charity in Essex has seen a 35% increase in the number of people it is helping compared with last year.
The Harlow Foodbank provides food parcels to people in the area who are struggling to make ends meet.
The service, which started in 2009, said it currently gives 1.7 tonnes of food to around 190 people each month.
Gary Knott, from the charity, said: "What we're finding is there are a lot of people who have been made redundant and are struggling."
The charity helps people who are unemployed, in debt, suffering from domestic violence or are homeless.
Rising costs
Mr Knott revealed over 40% of the people they supported were waiting for their first benefit cheque to arrive.
He said: "The majority of people we are supporting are families with children who are really struggling.
"Many of them have said if it wasn't for Foodbank they wouldn't be giving their children something to eat, which is quite worrying."
Mr Knott believed a further factor to the increase in demand was the price of food.
He said: "Generally everything seems to be increasing. Wages seem to be static, but what we're finding is food and fuel prices are increasing."
The foodbank gets its supplies from donations from local churches, supermarkets, schools and individuals.
Mr Knott praised the generosity of people in Harlow, despite the tough economic times.
He said: "Even though they're struggling, people will still come along and give one or two items, or even a bag full, just to help their neighbour."
He added one of the biggest issues they faced was finding places to store the food.
They currently have two locations in the area which are used as warehouses.