Mobility scooter man survives 100mph Essex train crash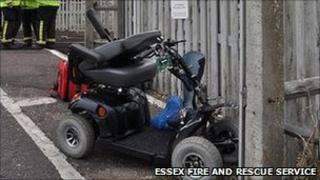 A man who was hit by a train travelling at 100mph after his mobility scooter got stuck on a level crossing in Essex has escaped with only minor injuries.
Paramedics were called to the crossing at Church Street in Kelvedon, near Colchester, at about 11:00 BST.
The man, in his 40s, was taken to Broomfield Hospital, Chelmsford.
"We believe the man was struck on the level crossing on a mobility scooter and amazingly received minor injuries," said East of England Ambulance Service.
'Glancing blow'
Essex Fire Service station officer John Harris, who was at the scene, said: "Somehow he ended up the wrong side of the barrier and a train travelling at around 100mph clipped the front of his scooter.
"The man sustained what appeared to be minor injuries, certainly nothing that appeared to be life-threatening.
"The man was extremely lucky: if he had been only a couple of inches further forward he would have undoubtedly been killed."
A Network Rail spokesperson said: "We received a call from a driver that his train had struck a person in a mobility scooter at Church Street level crossing in Kelvedon at approximately 11:15 BST.
"Emergency services were called to the scene and all trains were suspended through the area while they assisted the injured man, who is understood to have received a glancing blow from the train.
"Essex Police confirmed the incident was being treated as non-suspicious and the railway was reopened to traffic at 12:15 BST."