Kestrels nest on site of M25 road-widening in Essex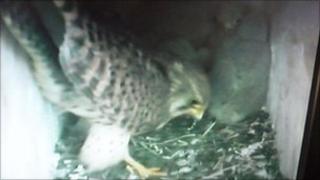 A family of kestrels have made their home alongside major motorway widening works in Essex.
Two adult birds have reared six chicks after taking up residence at a site compound next to junction 29 of the M25, the interchange with the A127.
After seeing the birds roosting nearby, workers at the site made a nesting box, which has been fixed to the side of a concrete silo.
A webcam has also been installed to keep track of the birds.
The kestrels were first spotted by Brent Erwin, a plant supervisor for concrete suppliers, Lafarge.
He said: "I think the kestrels were attracted to the batching plant by the warmth from the heaters that are used in the concrete production process.
"It looked like they were searching for somewhere to nest and I thought that maybe I could help."
The nest box will be moved to a nearby tree in the winter in the hope the birds will use them in future years.
'Absolutely fantastic'
There are estimated to be 38,000 breeding pairs of kestrels in the UK and the species are on the RPSB's amber list of protected species.
Mr Erwin explained a webcam was put inside the box in April to monitor the progress of the birds.
He said: "It was really interesting to see the bird settling in.
"The female would sit on the six eggs while the male went hunting.
"Now that the eggs have actually hatched it is absolutely fantastic and the family is doing really well. It won't be long now before the chicks fly the nest."
Work to widen the M25 between junctions 27 and 30 began in July 2009 and is expected to be complete by the middle of 2012.