Dodgem car world record attempt in Southend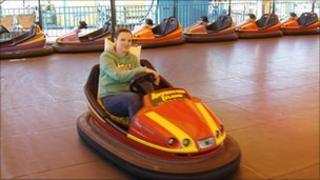 A woman from Essex is attempting to break the world record for the longest dodgem car marathon.
Laura Byng, 28, from Southend began her 25-hour attempt at 0900 BST on Wednesday at the town's Adventure Island amusement park.
The current record of 24 hours was set by Austrian Sebastian Bosch in 2007.
She said: "We started off with quite a few bumps but then we calmed down a little bit. We've got pillows and things so we should be fine."
"We've got to have about eight people here at all times [to adjudicate]," she added.
"We have to have two stewards to make sure everything runs to plan, two timekeepers and two people in the car with me, plus two independent witnesses."
'Wonderful work'
Miss Byng will be allowed a five minute break every hour for food and toilet breaks and there must be at least two other dodgem cars driving at the same time.
The attempt is being made to raise money for the local Havens Hospices charity.
She is also planning to take part in the 10,000 mile (16,093 km) Mongol Rally in July to raise £10,000 for the charity, as part of the Dotty and the Dice team.
She said: "The world record attempt will hopefully raise much needed funds and will also create awareness of the wonderful work Havens Hospices does."
Speaking just a few hours into the bid, Miss Byng said she was prepared for the nighttime leg of the attempt.
She said: "It's going to be hard, but we'll put some music on and drink lots of coffee and energy drinks, so we'll be fine."
In 2010, Adventure Island hosted a successful naked roller coaster world record attempt.