Olympic mountain bike course sections named by children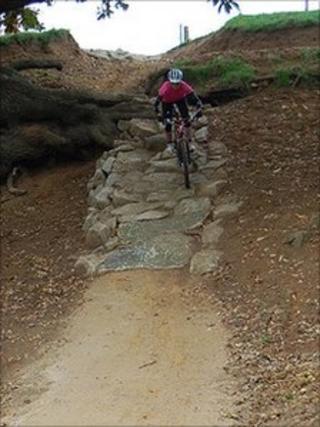 Four sections of the Olympic mountain bike course in Essex have been named following a schools competition.
The features on the three mile (5km) course in Hadleigh will be known as Rabbit Hole, Leap of Faith, Deanes Drop and The Breathtaker.
The competition was run as part of the London 2012 organiser's Get Set programme aimed at schools.
The sections will be ridden for the first time at a pre-Olympic test event on 31 July.
Tickets for that event go on sale this week.
The men's and women's Olympic mountain bike competition will take place on 11 and 12 August 2012.
'Great privilege'
The Leap of Faith is a section at the south of the course with a steep drop through a wooded area, named by Baddow Junior School.
Deanes Drop, named by the Deanes School in Thundersley, will see the riders tackle a winding, rocky descent followed by a long right-hander.
A long, steep climb up a grassy valley will be known as The Breathtaker following Hadleigh Junior School's suggestion.
Pupil Jack Greenslade said he was delighted to have had such an input into the Olympic Games.
He said: "It's a great privilege and a once in a lifetime opportunity and I can be part of it.
"I'll remember this for a long time to come."
Chelmer Valley High School named the final feature, a crossover tunnel section, The Rabbit Hole.
Student Ed Humphreys said: "The cyclists have to go over the top, go round the corner and then come back through.
"So I came up with the name 'rabbit hole' because that's what a rabbit would do.
"It feels a great privilege to have that name seen across the world and I'm really pleased about it."
Teacher Suzanne Mycock added: "It's a once in a lifetime opportunity. The Olympics won't come back again in their lifetime, let alone mine.
"It's just brilliant that our students can get involved."
As part of their prize, all four schools will also get a guided tour of the Olympic Park in Stratford.